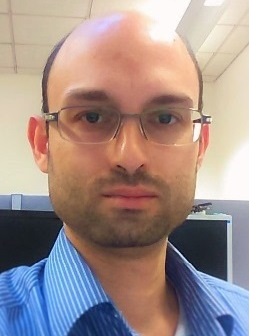 Ali Shiva, B.Sc., M.Sc.
PhD student
Email: ali.Shiva@kcl.ac.uk
Biography:
Ali Shiva received his BSc from Tehran University, Iran, in Mechanical Engineering; and subsequently his MSc in Mechanical Engineering (Dynamics & Control) from the University of Arizona, U.S.A. His Maters thesis is about modeling switching networks using Bond Graphs.
Ali has worked for about ten years as a design engineer and engineering coordinator in the field of gas, oil and petrochemical plants. During the final three years, he was the manager of the engineering department at Pars Kayhan Company.
Since October 2014, Ali has been working as a PhD student at Centre of Robotics Research (CoRe) at King's College London. His main focus is regarding soft manipulators for minimally invasive surgery, under the supervision of Professor Kaspar Althoefer. His main areas of interest are Dynamics, Multi Body Dynamics, and Control. Ali is currently working on modelling, simulation and control of pneumatically actuated soft continuum manipulators. In addition, he is part of the King's College team on the EU project named FourbyThree  which looks into safe human-robot interaction in industrial settings.
Publications:
"Tendon-Based Stiffening for a Pneumatically Actuated Soft Manipulator" – IEEE Robotics and Automation Letters, Vol. 1, No. 2, Jul. 2016