Brief Biography
After obtaining my Honours BSc in Chemistry (with Astronomy and Mathematics) at the University of Leicester in 1971, I stayed on there to do research in computational quantum theory completing my PhD in 1976. Between 1975 and 1987 I held the posts of Program Advisor, then Senior Analyst/Programmer, then Assistant Director (Science & Engineering) in the Computing Centre (now IT Services) at King's College London. In 1987 I was appointed Lecturer in the Department of Computer Science (now Informatics) at King's College, becoming a Senior Lecturer in 1994.
I am a Fellow of the Higher Education Academy (FHEA), a Fellow of the British Computer Society (FBCS), A Chartered IT Professional (CITP), a Chartered Engineer (CEng), a European Engineer (EurIng), a Fellow of the Institute of Mathematics and its Applications (FIMA), a Chartered Mathematician (CMath), and a Chartered Scientist (CSci). I have also been selected for inclusion in Marquis Who's Who in Science in Engineering.
Avocations. My main interests outside KCL are currrently:
studying and performing early English, Dutch and North German keyboard music (particularly that of

Jn

Redford to Wm Russell, J P Sweelinck, Matthias

Weckmann

, Franz

Tunder

and J S Bach's final decade). I've given a number of clavichord, harpsichord, organ and piano recitals.
In November 2002, I won the Brentwood Trophy in the Baroque Keyboard class of the Chelmsford Competitive Festival of Music and Drama for a performance of J S Bach's 6-part Ricercar from the Musical Offering (BWV 1079).
In November 2005, I won the Douglas Oates Memorial Cup in the 20th Century Piano class of the Southend-on-Sea Musical Festival for a performance of Sergei

Prokovief's

"Despair" (op.4/3).
In November 2012, I won the Vera Grand Challenge Cup and Prize in the Bach Senior class of the Southend-on-Sea Musical Festival for a performance of the

Canzona

in d (BWV 588).
In November 2015, I won the Peter Parsons Prize in the Baroque Keyboard Senior class of the Southend-on-Sea Musical Festival for a performance of Henry Purcells Chacone in g (Z.T.680).

attempting to supplement my meagre academic salary by moonlighting as a supply organist at various Essex village parish churches (most recently St Andrew North Weald Bassett, St Mary Magdalen Harlow Common, St Mary the Virgin Great Warley and Christ Church Warley), and as a piano accompanist for candidates at Associated Board of the Royal Schools of Music instrumental examinations (most recently Grade 5 clarinet, Grade 5 viola, Grade 6 guitar, Grade 6 saxophone, Grade 7 clarinet, Grade 7 violin and Grade 8 violin).

practising traditional Shotokan Karate; I started at age 46 and was awarded my black belt (

shodan

) 4 years later by Sensei Masao Kawasoe (8th

dan

), Chief Technical Director of the World Shotokan Institute (WSI). At age 55 I was awarded my 2nd

dan

(

nidan

) by the FBSKUI. I have had the privilege of training with several eminent Japanese and Okinawan instructors, notably

senseis

Akita, Fujita, Funakoshi,

Hokama

, Kawasoe,

Kuba

, Matsuda, Naito,

Nohara

,

Ohta

,

Omura

,

Otake

,

Shirai

and Yagi. I've also trained with several senior non-oriental karate instructors including: Iain Abernethy, Phil Beale, Paul Bowman, Ante Brannbacka, Gerry Breeze, John Burke, Mark Carroll, Tino

Ceberano

, Rick Clark, Len Davies, Jean Pierre Fischer, Dave Hazard, Jim

Hulse

, Olaf

Krey

, Jim McAllister, Patrick McCarthy, Pat

McLuskey

, Rod & Mal Martin, Vince Morris, Albie O'Connor, Colin Putt, Steve Quinn, Roy Sharpe, Joe Swift and Terry

Wingrove

. In addition to traditional karate, I've gained some experience of

bo-jutsu

(long-staff), jo-

jutsu

(short-staff) and knife (

tanto-jutsu

) combat under the instruction of Vic Hunt, Derek

Oram

, Mark Smith and Bob Breen respectively. I've also participated in a Chinese kickboxing seminar by Master L Y Kam, a kenjutsu lesson by Sensei Chee Chan, and Indonesian

Silat

&

Kerambit

seminars by Prof Jak Othman.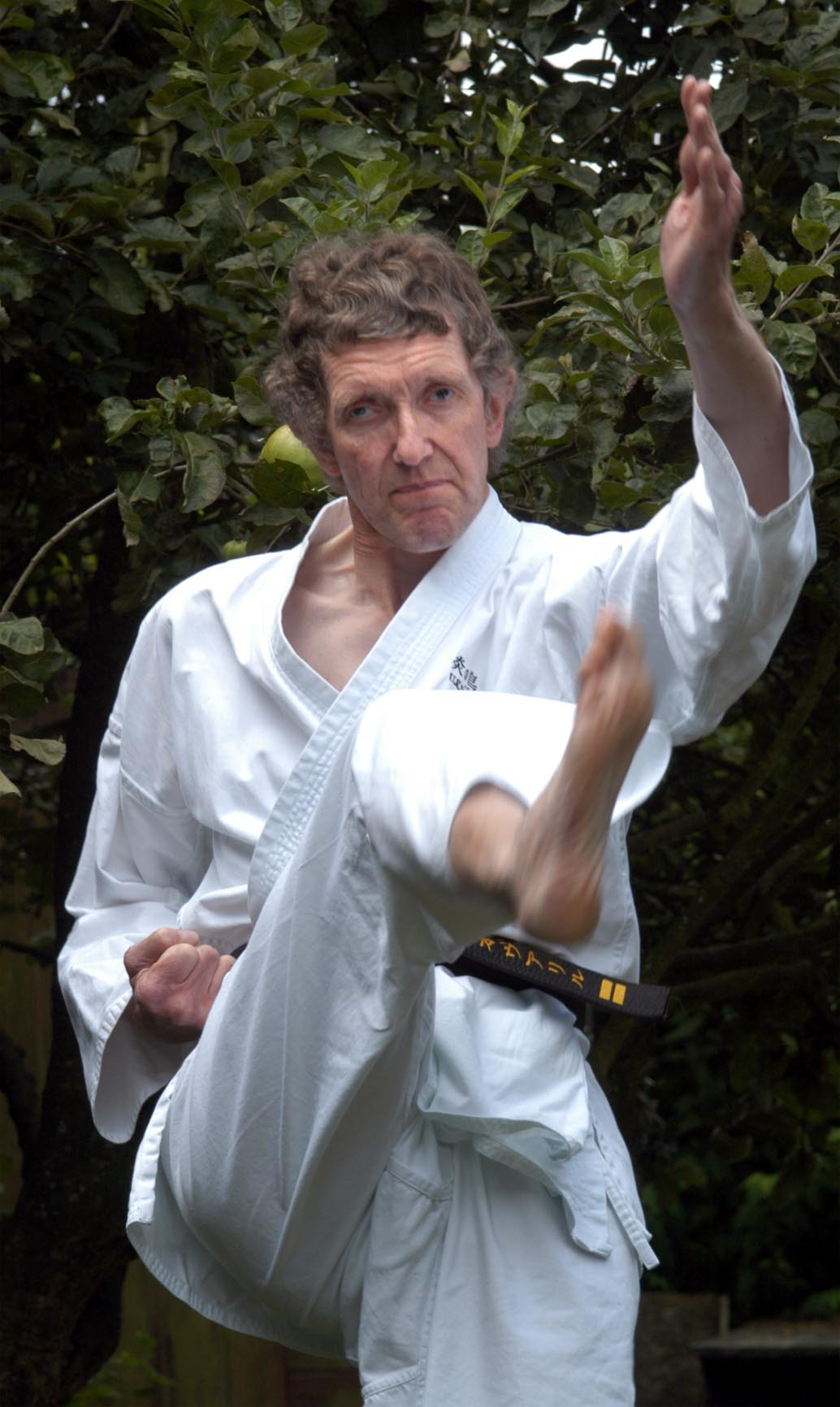 In July-August 2006, I accepted an invitation to study for a month with Sifu Shi Xing Ming at the Chanwu Gongfu Academy some 30 km south of Dengfeng in Henan Province, China. As well as learning traditional northern shaolin Gongfu forms I also had the opportunity to study a Yang style Taichi form and to practise Zuo Chan (seated meditation). In addition I was able to visit many cultural sites near Dengfeng, Luoyang and Xi'an. A brief account of my stay is available here. Altogether I have made four visits to mainland China, visiting the northern shaolin temple in Henan Province, the three extant southern shaolin temples in Fujian Province, and Wudangshan in Hubei Province (claimed to be the birth-place of Chinese internal martial arts) since July 2006. A short account of the four shaolin temple visits is available here.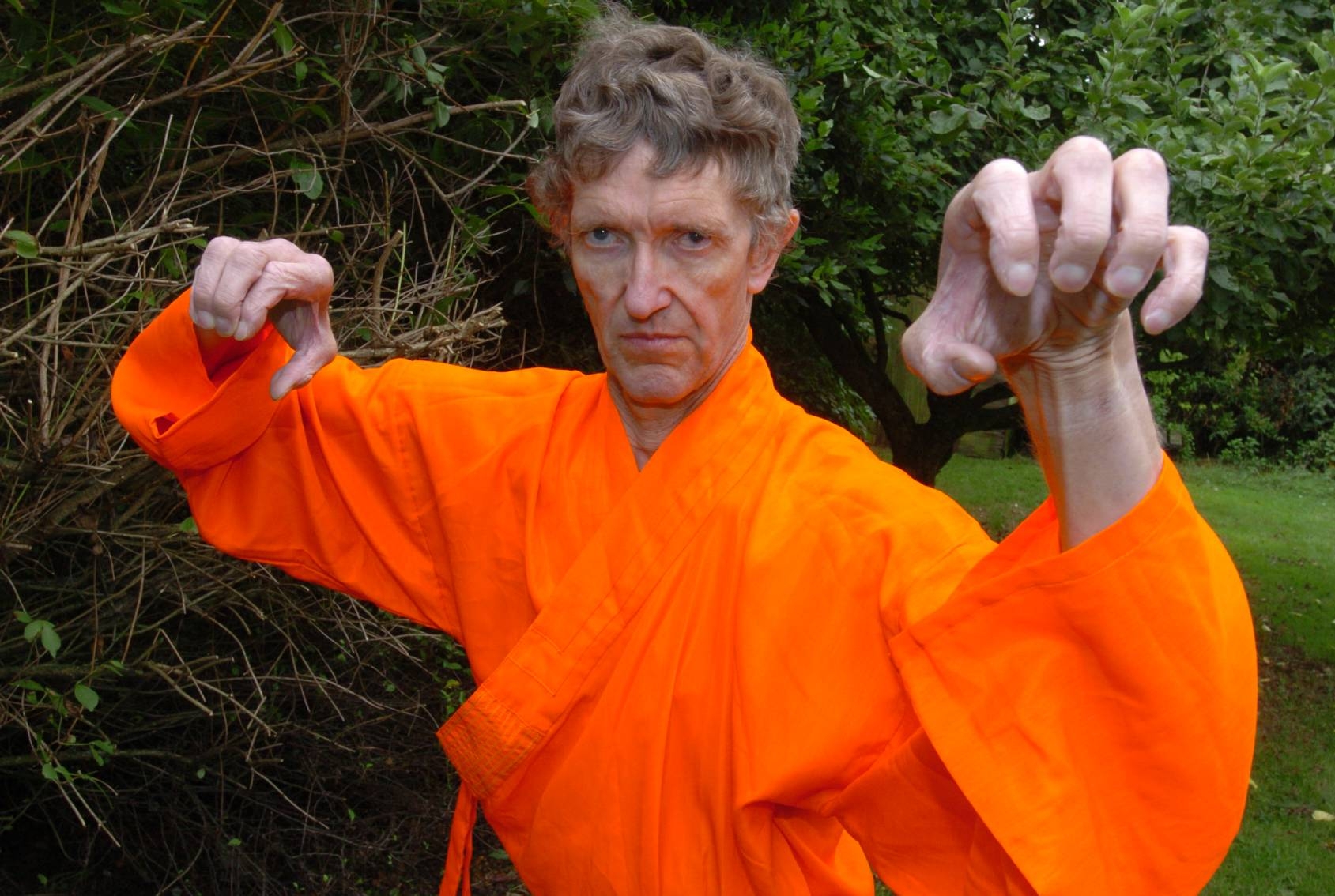 longboarding on my 6-foot

Landsurfer

made in 1999 by Donny Wright of Still Stoked. The deck has the original oak veneer finish top and bottom, a tapered, squared-off tail and scalloped wheel wells. The setup includes

Kryptonics

Classic K 70mm wheels with

Abec

7 bearings and 215mm Independent trucks. On a warm still day one can carve through King George's Park in Brentwood, Essex, from Hartswood Rd to Ingrave Rd (A128), off a single kick reaching speeds of up to 20mph.