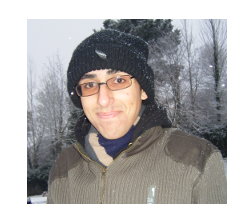 I am a teaching fellow in the
Department of Informatics
at King's College London, performing research in the
Robot Learning Lab
.
I am interested in the application of statistical machine learning techniques in wearable sensing systems. Specifically my area of research is to combine these techniques with sensors that are designed to be embedded into items of clothing, a topic known as fabric-embedded sensors, or e-textiles. In this area, I am primarily focused on creating robust sensing and modeling methods for acquiring motion data in the presence of fabric-induced motion artefacts. This is with aim of understanding and predicting human motion by collecting data outside the laboratory environment in a more natural, minimally invasive manner.
For an up-to-date list of research outputs, please see
KCL Pure Research Portal
Hilary English Computer Prize (2013) - awarded to the final year undergraduate student in the Department of Informatics whose work shows the most promising potential for research.
Shortlisted Best Project Prize Award 2012/3
Graduate Teaching Assistant/Scholar research stipend supporting my project, while undertaking a teaching role at the department.
My role as a teaching fellow involves primarily teaching and running a number of modules. Previously as a graduate teaching assistant I taught in both small and large tutorial groups, running hardware laboratory sessions, and grading coursework. I currently teach the following courses:
7CCSMML1 - Machine Learning
6CCS3NSE/7CCSMNSE - Network Security
6CCS3OME/7CCSMOME - Optimisation Methods
6CCS3PRE/7CCSMPNN - Pattern Recognition
Please view the corresponding KEATs pages for module specific information. I have previously taught in other courses including preliminary Java, graphical applications, logic programming, data structures, and computer systems. In addition to this, I have been an advisor/mentor to yearly BSc and MSc final year projects that have been undertaken with our research group. This has included projects involving hardware based fabric-based sensor system design, to statistical motion classification in wearables.